Set up your one-time or recurring donations to FUUSE through the form below. When you create your "Mogiv" account for the first time, you will be working through our secure giving platform at Mogiv.Com. Your password for your gifts to FUUSE through Mogiv is not the same password as your password for logging into fuuse.elvanto.net, unless you intentionally make them the same.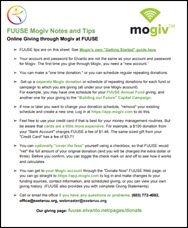 Be aware that Automated Clearing House (ACH) donations, directly from your bank account, result in lower fees charged to FUUSE than donations made through credit cards. But either is acceptable.
If you want to include a memo with your donation, tick the "check box" next to the word "Memo."
This page and the form below is not the place where you make your pledge. This is one of the ways you can make payments toward your pledge or make other donations. To make a pledge, go to our pledge page.
There's a handy one-page "getting started" guide for setting up your donations through Mogiv at this link.
And there are some simple Notes and Tips for FUUSE people setting up Mogiv giving at this link.
If you previously have set up a Mogiv giving schedule and want to review or change any dates or amounts or your funding source, log in to your Mogiv giving account at https://app.mogiv.com/ and click on "Scheduled Gifts" or "Funding Sources." For changes to your schedule, we recommend that you "Remove" your active schedule and create a new one with the new settings.